During the redesign of the website for A-technology, we were asked to redesign their technological calculator. We not only created a redesign for the calculator, but also added new functionality.
You can read how we implemented a completely new website design in the article Website Speed and Reliability for A-technology.
Where Can the Calculator Be Used?
The calculator can be used by those who decide to build a house and would like to know what their possibilities are in heating and other modern technologies. The calculator is currently set up for a house of 160 m2, but there are plans to add more options. However, this does not prevent users from getting an overview of the technologies and their approximate prices.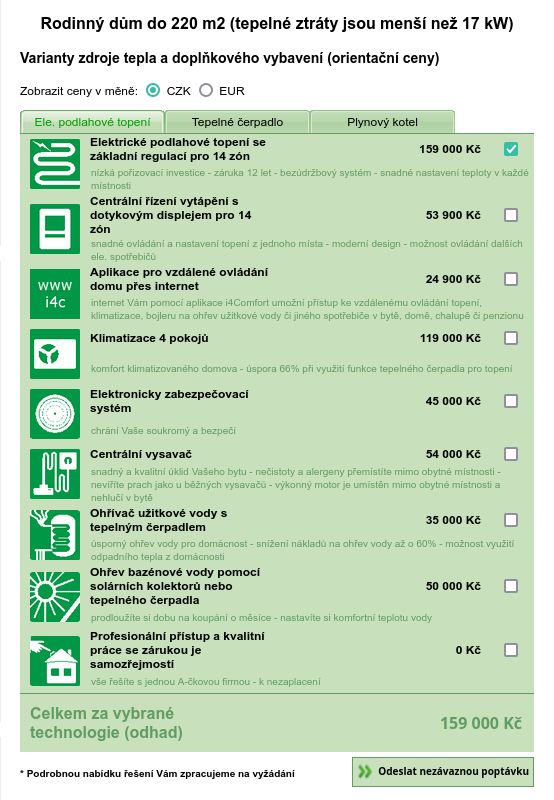 What kind of calculator did we create
The new calculator basically works like the old one, so nothing has changed for users and they don't need to learn anything new to use it. But the client has new options. One of them is to choose additional options. If the customers checks one of the main technologies, they will be offered additional options. The calculator is clearer and the customer knows exactly what technologies are connected with. As a result, they can better specify their requirements.

Another new feature is Required additional options. Some technologies include additional options that need to be added for everything to work. Therefore, some additional options may already be checked and may not be removed.

The last and probably the biggest improvement of the original calculator are Subsidies. The customer can choose one of the offered subsidies in the calculator and all necessary technologies are automatically selectedto meet this. Thanks to this, the customer sees what he has to reckon with if he is interested in the selected state subsidy.

If you want to send your calculation to an e-mail, you need to fill in some basic information. At the client's request, we have extended the calculator with the option of uploading documents related to your project. Thanks to these materials, A-technology can prepare a custom-made design for you, exactly according to your requirements.
A-technology wants to give its clients an insight into the possibilities they have and allows them to choose the solution according to their ideas. The exact solution can be consulted with people from A-technology, who will provide you with more detailed information.
If you like our calculator solution or need help with the web, do not hesitate to contact us.