The i4comfort application by A-technology brings complex yet simple solutions for a remote control of technology in your house. The idea of reducing heating costs, and thus also reducing the CO2 footprint thanks to an intelligent technology control, attracted us and we were pleased to be involved in creating of a website for this application.
Why And How It Was Created
We created the website for i4comfort in CMS WordPress of an already existing client, for whom we launched a completely new production website this year. The company A-TECHNOLOGY s.r.o. has its presentation website a-technology.cz, so it was not only important to design the i4comfort website in a similar way as the parent one, but also to create a new identity for the new website at the same time.
A Comparison Between the Old And the New Website
The old i4comfort website had several drawbacks:
It did not meet the security criteria.
There was no development environment in the form of staging.
Its logo and appearance were outdated.
It was not responsive.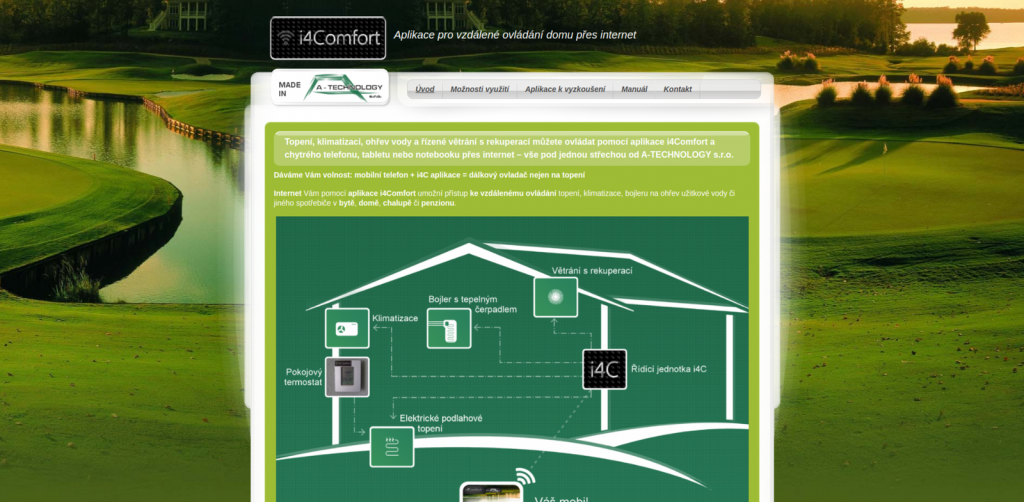 The new website:
It is fully responsive.
In multiple places, it has a CTA button calling for action, making it more likely to gain a customer.
We created a new logo and a new website design.

The Website Graphics
The website graphics correspond to the graphics of the mentioned parent website.
However, the new website has a unique and memorable design.
Its unique website identity makes it clear that it is a separate website.
At the same time, it feels familiar to customers of a-technology.
Information is not only communicated through text, but is also displayed graphically in many places, making it more memorable and clear.
Technical Functions
A Modern Experience
The website contains many visual effects which do not slow it down thanks to their careful integration. The website is also responsive on any device.
Many animations and interactive parts use only styling options (css).
There is no need to load JavaScript because of some clickable interactive sections where it is used very often on other websites.
Thus, the website is much faster, and yet provides the same quality experience, such as here: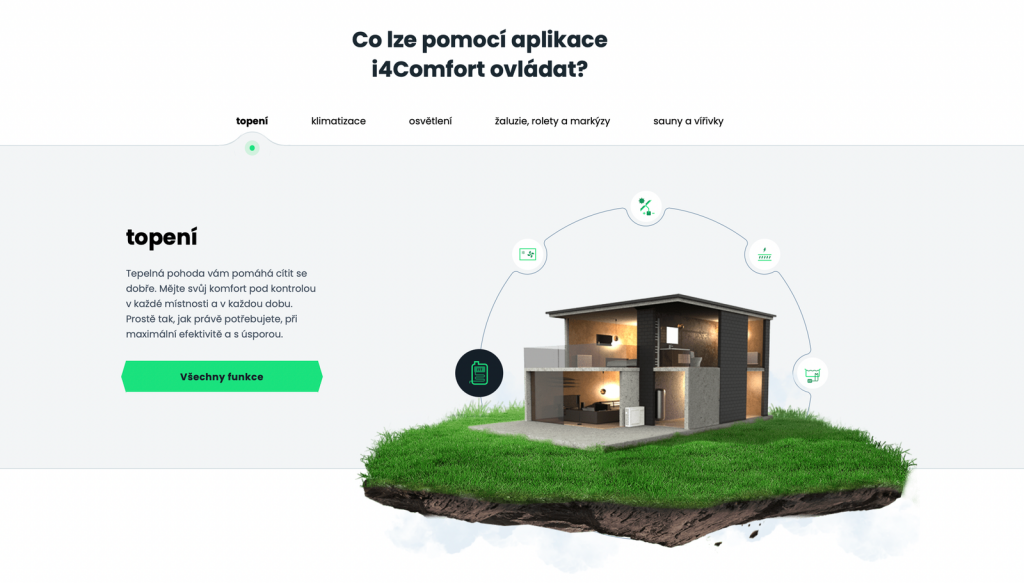 The Website Responds to the User
The symbols of each technology change according to what the user is currently reading. The CTA button, icons, or navigation elements (top menu, dots on the right) also change according to the positions on the website. You can see everything on website "Jak funguje i4comfort".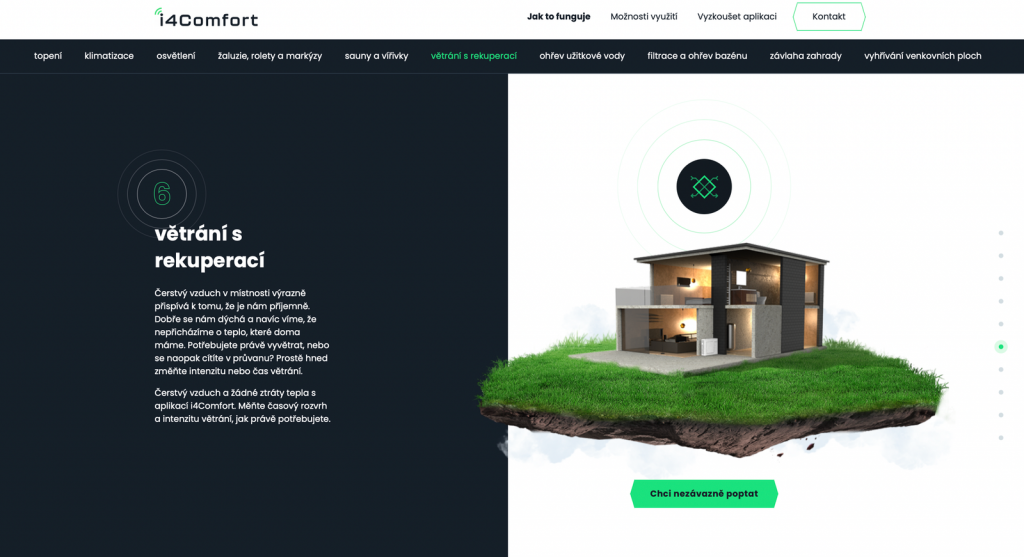 On page ,,Možnosti využití", the images change interactively according to what the user reads. Thus, the reader can easily imagine what exactly they read about and also remember it better. This creates a unique, fast and interactive experience that will attract users.
Benefits of the New Website
Theme Built on Sage
Easy Configurability
The theme programmed by us for WordPress allows easy configurability.
The behaviour and style of the page header are separately configurable.
All content is easily editable without the need of developer's intervention.
Mobile/Desktop Usability
The desktop environment is far from being just an enlarged mobile environment. A good experience for every user is important to us.
All of the desktop space is used. Thus, as much information as possible is displayed on the screen and the website does not seem empty even on larger screens.
The mobile environment is adjusted for being used with a finger and also on smaller screens.
On a mobile, everything is easily clickable, simply and quickly accessible.
Many sections look significantly different on a mobile and a desktop.
For a better experience, many parts were simplified for a mobile. Some visual aspects used for a desktop were removed, because they had no added value for the mobile user.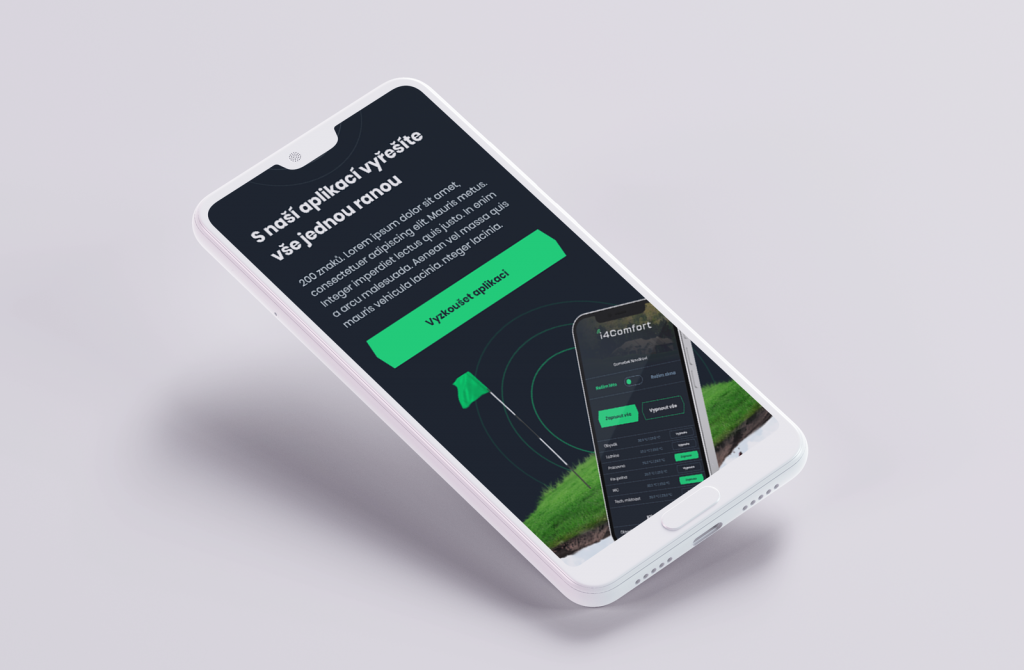 For i4comfort, we have created a new fast and clear website with a plenty of improvements. If you need help with creating of your website and want to provide your customers with a quality experience, do not hesitate to contact us, we will be happy to help you.