Today, we will focus on the most common mistakes to be expected when you are starting with building websites on WordPress. Some cannot be completely avoided at the beginning, but with more experience, they become less of a struggle.
1. Template
You should consider whether you actually need one and also which one. Most free templates can do a lot, but still not as much as the paid ones. However, both variants are not completely ideal if you are able to compose the website yourself as a Custom template.
Why not, you ask? Most WordPress templates include a lot of interesting features. We use only some of these and the unused rest of them is often loading as well. Every millisecond counts. Therefore, it is a good idea to think about this right in the beginning. We can recommend the GeneratePress.
2. Plugins
A lot of beginners like to use plugins. Literally for anything. Just like templates, you can find free or paid ones. In both cases, you need to keep in mind that WordPress is an OpenSource solution and no one checks the quality of the plugins' code if it is not directly in the WP repository. Therefore, communication between a plugin and, for example, a template might sometimes be problematic. Please, before each use of a plugin, decide whether it is really necessary or you have an alternative, better option.
3. Builder
This is a nice solution. However, there are again more builders to choose from. For us, the Divi builder proved to be the best, but we have also heard some praise on the Elementor. I would rather not comment on the others. Its advantage is that you can compile the given website elements very quickly. You can see the work immediately and edit the elements in a builder, unlike in the fixed template boundaries. Its disadvantage is the same as with templates. Lots of code that you won't actually use.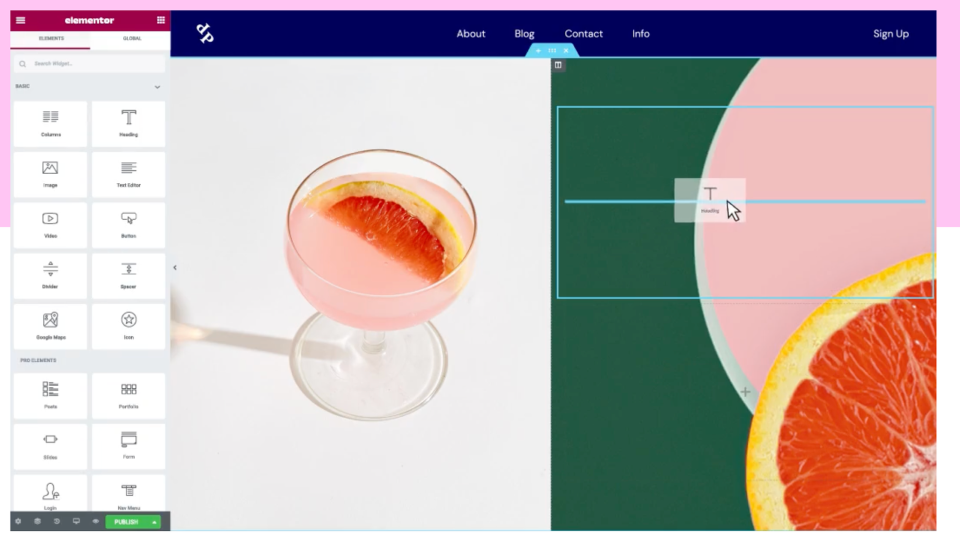 4. Server
For a smaller website with just a few pages serving as a business card, any of the available web hosting services will usually be good enough. However, make sure that your provider offers a quality technical support, so you don't have to wait a week for each of your requests. The hosting company should also have a WordPress one-click install option. Furthermore, it is a good idea to create a so-called subdomain on one hosting due to the development environment. You can read about creating of a development environment in the article How to create a staging environment.
Out of Czech and Slovak hosting companies, we recommend WPHosting, ACTIVE 24 and Websupport.
For all websites, we use VPS serves from DigitalOcean. We can manage everything ourselves here. Its advantage is great speed, flexibility. Its disadvantage is that you need to hire a pro for this job.
5. SEO
Often underestimated. Many beginners either intentionally overlook it or simply forget about it. At the same time, all you have to do is provide basic information for Google in the Google Search Console and fill the necessary data in the WordPress backend using SEO plugin of your choice so your site will be indexed as soon as possible. Also, do not forget about the information related to the images and optimizing of their size. If you decide to write articles using a lot of keywords, that is also great. Every website deserves it. You can learn how to write articles in the article SEO – How to write articles to be readable and optimized for search engines.
We use the plugin from YOAST to set basic descriptions on websites.
Always stick to the motto: "Less is sometimes more."
Daily, we come across websites with a purchased template, 40 plugins and even a builder. With problematic communication. Believe us, this is not the right way to success. Owners of these websites are subsequently disappointed. Even though they paid for a nice, fast and secure website, all that was left of their great expectation was the aesthetic part. Speed and safety have disappeared somehow. We hardly-ever repair these websites nowadays, because we realized that creating a new website is just as or less costly for us and the client.
Think thoroughly about every single thing before you decide to use it on your website. And if you find yourself feeling lost, contact us and we will be glad to help you.